There are ways to look at the history and answer that question. After talking with Bill Ludwig III on the topic, he did mention that they switched materials based on cost. Out of his control of course, because he and his father always thought the Ludwig Black Beauty should be brass.
If we take a look at the properties of the two metals they are similar raw materials, but different in physical characteristics. Here are some known facts about the two metals. (We don't know for sure exactly what Ludwig was using and or having made at the time.)
Brass
Bronze
60% copper and 40% zinc
80% copper and 20% tin
Softer
Harder
Can be Corrosive
More resistant to corrosion
Drilling causes small pieces
Drilling cases metal strands
Yellower in color
Golder in color
So now back to drums! In 1977 we know for sure they are brass then the shell change starts taking place around 1981 when the catalog now shows the shells as bronze. So that is a transition point that causes a lot of confusion. The company also changed ownership around that time.
Ludwig must have still had brass shells still in inventory. They needed to have shells if someone ordered a brass shell or if someone sent a brass shell back.
At this point, the Black Beauty is not pictured in catalogs and does not show up until the 1988. There is no mention in the earlier catalogs of a Black Beauty finish being available.
So the drum we see in 1988 just looks a little different in finish then the original 1977 Black Beauty. Here is a side by side shot from the two different catalogs. You should be able to see the difference. (click photo)
1977

1988
So the bronze shell drums stay in the catalogs into the 90's and in the 1994 catalog we see them being brass again.
1994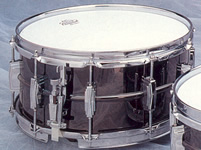 It goes without saying that I might not have every Ludwig catalog or flyer, but as I find more information I will add it here and update the information.